On Boxing Day, 1963, four people sabbed the South Devon hunt in what was the first official act of sabotage by the Hunt Saboteurs Association. The 18th January, 2014, over 100 hunt saboteurs from across Southern England and Wales descended on Dartmoor National Park to sabotage the same hunt to mark their 50th year.
A few days ago was also the 90th year anniversary of the League Against Cruel Sports.
I've supported the charity since my early teens in anyway I can. I bought T-shirts, badges, pens, mugs, etc. I went around the school trying to sell merchandise out of the LACS catalog and was very successful. One of the teachers bought two videos for the school! While another teacher screamed at me and told me to get out of her sight. I discovered later that she went on hunts. After this, she treated me so bad and on one occasion she slapped me in the face in front of the rest of the cookery class! Very humiliating and I tried not to cry. I got my own back by sewing two hounds ripping apart a fox on my oven gloves. She hated me! I also turned vegetarian from the age of nine till eighteen. This came about when I saw a program called 'Nature', hosted by Micheal Buerk. It showed geese being force fed in France and while they were still alive, the french turn them upside down and slit their throats to let the blood drip. immediately after seeing that, on came the Pilot Whales being hacked to death in the Faroe Isles. So disturbing and upsetting. Finally they showed birds being trapped in France just for the hell of it. One French hunter extracted a Skylark out of the jap net, and with his thumb he pressed hard on the chest till the poor thing could no longer breathe! What the hell!!? Others were just left in the nets to die. This got to me and I joined some organization against killing birds in Europe. I was only 10 and I starting raising money for the organization and making people more aware of what was happening to the Robins that visited their garden. I remember a male Blackcap upside down hanging from a glued stick on one of the leaflets.
How fitting it was that I went and worked on one of the top ten stud farms in Europe the day after leaving school! I'm so glad I did, because I discovered about the hunting business. There are so many disturbing things that happened at the farm and elsewhere that I witnessed. I loved my job and after eight years I had to move on, because I couldn't stop speaking my mind towards some of the folks who visited the farm. I'll save that for another blog. Out of working there, no one can say that I don't know nothing about hunting. I probably know more about hunting than most. All my family live in the countryside. My nan was born out in the sticks at Black Hill, Clun. They've come across many hunts and not one supports them and are totally against it.
As for the League Against Cruel Sports, they've done a amazing job for the last 90 years protecting our wildlife here and abroad. Below are recent stories of how the LACS and hunt saboteurs have to protect their selves from hunters and politicians. That's one thing I do regret. Not being a hunt saboteur. The first incident is about a hunt monitor being shot in the head by a hunt supporter.
Monica Smallwood, a hunt monitor was shot in the head! How can anyone point a air rifle at someone and shot? Knowing that it's going to cause horrific injures if they hit the target, especially in the head and face. If they don't give a danm about shotting at people, then they sure ain't going to give a damn about shooting wild animals.
20 July 2012
BBC NEWS
A South Pembrokeshire Hunt supporter, arrested but not charged after a protester claimed she had been shot in the head, has been jailed for firearms offences.
Steven Barrett, 66, of St Clears, Carmarthenshire, had a sawn-off rifle and ammunition inside his van, Swansea Crown Court was told. He admitted several fire arms offences. Due to his poor health, he was given a three-and-a-half year jail term instead of the minimum of five years. Janet Gedrych, prosecuting, told Swansea Crown Court how on 19 October last year the hunt gathered in a clearing in a wood near Saundersfoot, Pembrokeshire. There were also several supporters, travelling in vehicles, and protesters. Both groups, she said, were "well known to each other".
An argument took place and one of the protesters, Dr Adrian Smallwood, began to film the scene. His wife, Monica, then said she had been shot in the head and blood could be seen coming from her forehead. Miss Gedrych said the police were called and, after viewing the film footage, identified several vehicles. Barrett was stopped as he returned home in his van. Under the front passenger seat officers found a gun that has been illegally modified. Miss Gedrych said it was originally a 0.22 rimfire rifle but when officers found it it was more like a single shot handgun. Barrett had shortened the barrel and replaced the stock with a pistol grip. Officers also found 10 live rounds of 0.22 ammunition designed to expand on impact.
His home was searched and 10 air rifles and six air pistols were found. Barrett told police he had put the gun and ammunition into his car because he had been under the impression that a nearby farmer would ask him to shoot a fox. But he would not say who the farmer was. Miss Gedrych said police made a thorough search of the clearing and could find no evidence of anyone being shot. Barrett was not charged in relation to the alleged shooting. James Hartson, defending, said Barrett, was a former gamekeeper and now a semi-retired farmer. Mr Justice Spencer said he had given the matter "anxious consideration". He added that Parliament had laid down a five year minimum sentence for such offences for a good reason and Barrett could avoid it only if there were exceptional circumstances. He ruled that because of his age and his poor health he could reduce the sentence to three and a half years, but no lower. He said Barrett admitted he had left the gun and the ammunition in his vehicle overnight and had run the risk of the weapon falling into the wrong hands. Barrett admitted possessing a rifle with a shortened barrel, illegal ammunition and an overpowered air rifle.
3-9-14
Daily Mail
Hunt member arrested after he 'deliberately trampled female protester with his horse leaving her with seven broken ribs and suspected punctured lung'
- Woman, 42, seriously injured after being 'hit by ridden horse during hunt' - Taken to Yeovil District Hospital with seven broken ribs and punctured lung - Police said man 'fled the scene of incident' but later attended police station - He was arrested on suspicion of causing grievous bodily harm and bailed.
The Hunts Saboteurs Association said the woman was with another protester 'on a public road' when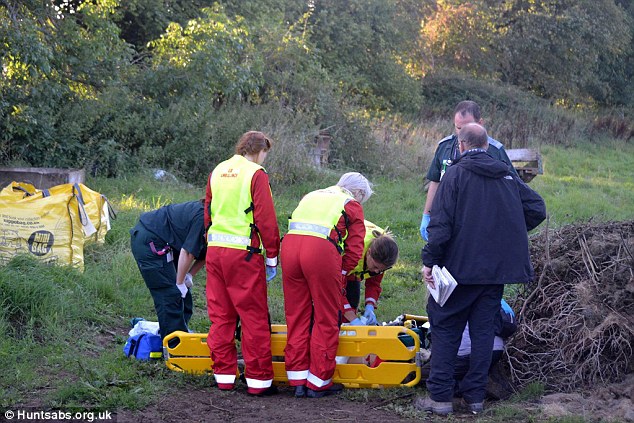 she was hit from behind and dragged along the ground. The joint master of the hunt, Mike Felton, said members were 'very upset and deeply concerned' that she was injured while the hunt was out. He said: 'We as a hunt and as individuals deeply regret any accident or incident that happens to anyone who is hurt. There is a police investigation so I can't say much about it.'
Well as you see in the videos below, what Mike Felton said is not case at all. Most huntsman enjoy beating women with their horse whips.
Violence from hunt supporters to hunt saboteurs during the last day of legal hunting at the Chiddingfold hunt, Sussex, England Feb. 05 Watch the woman hunt saboteurs being beaten by a huntman on a horse! What is wrong with these people. Warning bad language right from the beginning by the hunt
supporters.
http://www.huntsabs.org.uk/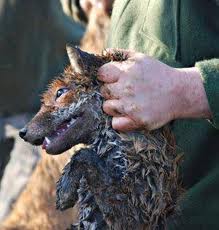 This helpless animal is still alive at the mercy of some thugs hand
LACS banned from attending Conservative Party Conference
29-9-14

LACS PR

Animal welfare charity barred from Conservative Party Conference Officials from the League Against Cruel Sports have been denied a pass to this week's Conservative Party Conference. Three members of the charity's staff including its CEO had intended to attend to offer ideas to the Tories for their manifesto for the next general election but were told in a letter from Conservative Party Chairman

Grant Shapps that "the Conservative Party reserves the right to refuse admission to any person without ascribing any reason hereto."
League CEO, Joe Duckworth [left] said he was disappointed and surprised by the Tories' snub. "The League Against Cruel Sports is a registered charity. As such, we campaign for animal welfare with all of the major political parties without any political bias. We have been allowed to attend every political party conference this year apart from the Tories and each of the other parties have allowed us to promote our animal welfare policies in the lead-up to the general election. We wanted to put our positive policies for the next election to the Conservative Party including defending the Hunting Act, a ban on snares, a review of the commercial shooting industry, an end to EU subsidies for bullfighting in Spain and action on the growing problem of illegal dogfighting but they have told us we are not welcome. We have been forced to conduct a fringe meeting on our Animals Matter policy document outside the conference secure area. It is quite extraordinary for a charity organisation to be treated this way."
28-9-14

Sunday Express
Tory MP Elizabeth Truss says scrap fox hunting ban
ENVIRONMENT Secretary Elizabeth Truss
[right]
reopened the fox hunting row last night by calling for the ban to be scrapped. Elizabeth Truss who last night called for Fox Hunting ban to be lifted. Ms Truss said the Hunting Act had been a "mistake". The Coalition promised a free vote on overturning the Hunting Act when parliamentary time allows. However, she indicated there would be no chance to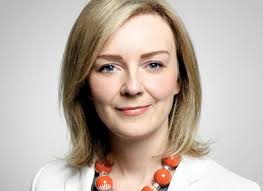 repeal the Act prior to next year's election, partly because there is little chance of success.
Asked whether the party is likely to delay the vote until after the election, when it would stand a greater chance of success if more Tory MPs are elected, she said "yes".... "I personally would vote in favour of allowing fox hunting. I think it was a mistake... and I would vote for a repeal. We need to make sure that we have the votes to be able to do that. We have said we will put it before Parliament when time allows."
David Cameron has been given a stern warning by countryside groups that rural voters will be less inclined to support the Conservatives next year if a pledge to repeal the ban is not included in the party's manifesto. Some pro-hunting groups already feel let down because a promise to lift the ban in the 2010 manifesto has not been honoured. Last month Sir Barney White-Spunner, executive chairman of the Countryside Alliance, warned that the party risks losing half a million votes if it fails to include a pledge to repeal the ban on fox hunting in its manifesto. Sir Barney said the Alliance "wants and expects" a pledge from the Conservatives as they go into next year's general election. The fear for the Tories is that Ukip might begin to draw off its support in the countryside.
A poll of Countryside Alliance members held last year found that 13 per cent were planning to vote for Nigel Farage's party at the election. Ukip is pledging to introduce referendums on fox hunting to give people in the countryside the power to decide for themselves.
Please don't vote for UK Independence leader - mad man, Nigel Farage. Not only is he supporting hunting, but for hundreds of other reasons.
Redditch councillor for UKIP, Dave Small referred to gay people as perverts and African immigrants as scroungers. The list continues...
It's not all bad news.

A survey conducted recently noted that over 80% of the UK public living in rural and urban areas are totally against hunting and would expect political leaders to give heed to what they think.
If it wasn't for the League Against Cruel Sports and the hunt saboteurs, then who would protect our wildlife from these thugs?
Join the LACS http://www.league.org.uk/
Have a look at their Youtube videos. It also shows their involvement in trying to put a stop to bullfighting, greyhound racing and the shooting of birds in Malta.
If your totally against hunting and you want to do something about it and get involved. Then join the hunt Saboteurs Association http://www.huntsabs.org.uk/
Monica Smallwood being shot by hunt supporters. What is wrong with these people!?