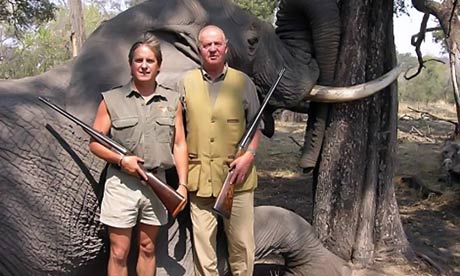 Spain's King Juan Carlos having a great time shooting elephant's in Northern Okavango area, Botswana, while the rest of his country is deep in recession. The animals often die in great pain after being terrorised by the hunters, wildlife preservationists say. Killing an elephant, particularly the dominant male in a herd, can play havoc with a population. Young males left bereft of an authority figure can run wild, hurting females or even other species, such as rhinos
More easy targets for the 74 year old king. This time he poses with 2 Water Buffalo that he has shot. Photograph: Target Press/Barcroft Media
The king's hunting trip, which officials described as private, has caused a storm of angry comment from animal lovers and those wanting to know how much it had cost.
PLEASE WATCH THIS VIDEO IF YOU CAN STAND IT!
http://youtu.be/0m23rM2WYl8
Note that all comments have been removed. I wounder why that is?
It's a very disturbing
promotional video on YouTube
and shows Rann shooting elephants – which can be killed with licences bought at auction from the Botswana government – in the Okavango delta.
"You have to manage the world's animal populations, to their betterment," says Rann, who did not answer queries from the Guardian. "We are trying to improve their habitat."
King Juan Carlos has been involved in hunting scandals before. Six years ago, officials dismissed as ridiculous allegations that he had shot a drunken Russian bear that had been plied with honey and vodka. The royal family has a troubled history with guns. The king shot and killed his brother in an accident when he was a teenager