How did Mark Thatcher accumulate a massive fortune of £60 MILLION POUNDS?
Maybe with
the help of his mother as her son played the middle man in the Al-Yamamah arms deal, (at the time the largest in history) The image is from the book 'Thatchers Fortunes'
Do you think that Amnesty International will be sorry to hear the news of the death of Margaret Thatcher? I think not! And why?
A few days ago, like every day, I picked up the papers from the shop for the guests at the hotel. This included one of them being the right wing journal, 'Daily Mail' The headline on the front page was
'BBC 'WHITCH' SONG INSULT TO MAGGIE'
I continued reading it and in short it said, the BCC are planning to play 'Ding Dong! The Witch Is Dead' on national radio three days before her funeral. As I handed the paper over to someone working in the hotel, I said that the song was number 10 in the charts and in seconds, it's now number 3! Her reaction was, that it's sick for that song to be played and what about her kids. Her kids? I explained that her son Mark, makes a living out of arms dealing, involving billions of pounds! And you know what her reply was? Yes, but he hasn't killed anyone! What!? Did I really hear that right? With my hands on my head, I walked out of the hotel to get some fresh air.
This made me aware that a lot of the general public really don't care what Thatcher and her son got up to and I guess that not many people will read what I've written below. However, if you did, then you might come to understand why she and her son, believed that money is more important than human lives.
I've delved into both google and Youtube, to find out as much info as I could about the arms dealing between mother and son. I already knew about the Al-Yamamah arms deal, but also found out a lot more about how evil this wicked witch really was. Like how a deal was made where Britain financed aid in northern Malaysia in return for an agreement to buy British defence equipment worth £1.3 billion!
'LOVE OF MONEY IS THE ROOT OF ALL EVIL'
Kirkby Times, http://www.kirkbytimes.co.uk/news_items/2004_news/mark_thatcher.html blew the whistle on the
middle class crime wave
in the UK, but often the middle classes don't need to commit 'crime' and just do 'legal' things like accumulate fortunes ripping off the British taxpayer with slick and cunning financial tax manoeuvring (which depletes us of billions each annum) or that other great 'trade', the old Arms trade. Whilst selling a few AK47's to the local community would get you or I nicked and banged up, for the big arms dealers and middle men, they have offloaded enough arms to fuel wars, yet are praised as being 'good for the economy'. We praise arms dealers despite the fact that British Troops will at some point be taking on the Countries which we, in our wisdom, allowed the arms dealers to 'tool up'. The news of Mark Thatcher being nicked in South Africa, plus the re-emergence of the massive amount of information which points to his being for suspected arms dealing, plus a planeload of mercenaries waiting in jail in Equatorial Guinea, it seems that old Maggie will be most upset.
Mark, carrying with him the obvious approval of his mummy, the notorious "Iron Lady", became an unofficial roaming salesman for British arms companies. A bit like the Richard Branson of the arms trade, though to be fair, as daft as Richard Branson may act, at least his fortune is not built on death and nor did he tag along after his mummy to sell his records. Virgin Record Stores don't do a 'good deal' on a gross of stinger missiles to the Arabs, or Iraqis. Thatcher's spawn became a middleman who was ideally placed to get the British arms export industry accountants smiling with delights as the Innocent's spilt blood and mounted up in death piles. Mark Thatcher earned himself millions in commissions, in particular dealing with Countries like Saudi Arabia. This disgusting trade, whilst it profits the likes of Thatcher and shores up dictators, is one that should surely be abolished. It is ironic that Maggie Thatcher, the supposed Patriot, would allow her son to sell arms to Countries which are now using those arms to kill British troops.
Being son of the Prime Minister meant that Mark could tag along and meet the various dignitaries and suchlike of other Countries. His mum, the Satanic Highness herself, would sweet-talk the depraved corrupt Saudi Rulers and hug and kiss the dirty disgusting evil murdering dictator Pinochet, whilst Mark could presumably read from a prepared script which went something like "I have a few friends in the arms trade" Its just like fronting for a drugs cartel, only there's no danger of being nicked, or there never used to be! He associated with arms dealers and mercenary organisers, and his fortune came from his middle man position, just 'being there' as it were. Right man, right place, right time. People need arms to kill, you're English and selling arms is one of our biggest export industries. Chile is alleged to be one place he dealt with.There is a case of a MI6 officer being unlawfully killed there, with links to suggest that Thatcher may have had a connection. Don't sue the messenger. You can see that news here and here (Details of some of these allegations are contained in the Profits of War: Inside the Secret US-Israeli Arms Network by the former MOSSAD agent Ari Ben-Manashe (Sheridan Square Press, New York, 1992).
It is known that British firms supplied weapons to both Iran and Iraq in the 1980s by the simple device of sending them to intermediary countries, which then re-exported them. The British company BMARC, of which former Tory minister Jonathan Aitken was a director, supplied hundreds of light naval guns to Singapore -- a country not renowned for the huge size of its navy. Those guns found their way to Iran.

Favourite staging posts for Iraq-bound weapons were Oman and Jordan. In 1986 Swedish Customs discovered a European cartel, including British firms, supplying explosives via Jordan." Above From the Australian Green Left Weekly online
website.


Why then did we run round Iraq like headless chickens looking for 'weapons of mass destruction' when we already have evidence of the Tories being heavily involved in arms dealing to Iraq!?

For all we know, our brave solders that were in combat in Iraq may well have an English or American armour piercing shell hitting them, or maybe the next European terror attack will be done with chemicals or biological agents made in Porton Down. That's a place in Wiltshire which has likely made enough chemical weapons to poison the entire planet, certainly to kill every man woman and child in the UK. Iraq and Iran had contests with these weapons
If we want to know if Iraq has any weapons of mass destruction, maybe we should of asked Mark Thatcher and the rest of the arms dealers to look through there receipts.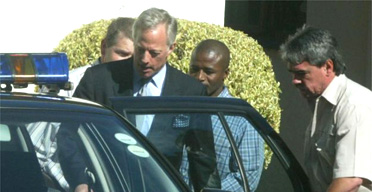 Mark Thatcher after his arrest in Cape Town facing a legal battle to avoid a lengthy jail sentence after being arrested and charged in South Africa with helping to finance a failed attempt to overthrow the president of a tiny but oil-rich west African state. Photo: Esa Alexander/AP
When Mark Thatcher was arrested for helping to fund a plot to overthrow President Teodoro Obiang of the oil-rich African state of Equatorial Guinea, the spotlight was suddenly back on the controversial multimillionaire son of the former prime minister and his dubious business ventures. And the scandal revived an even more enticing mystery: just how has Mark Thatcher accumulated his large pot of gold?
Thatcher's Fortunes
reveals that while she was prime minister, Lady Thatcher was active in lobbying for contracts in which her son had a commercial interest. Despite the potential damage to her government, she allowed him to use her office to enrich himself through arms deals in the Middle East, construction contracts in the Gulf and oil ventures in Africa.
After his mother was ousted from Downing Street, and while personally dogged by lawsuits and tax investigations, Mark Thatcher moved to South Africa. It was here that his association with gun-runners and mercenaries led to his involvement in the dramatic attempt to topple the president of Equatorial Guinea.
Packed with new revelations about Mark and Lady Thatcher's commercial and financial affairs,
Thatcher's Fortunes
is an insider's account of one of the world's most famous political dynasties
ANDREW FEINSTEIN: …'The global arms trade is a $1.74 trillion-a-year business. That's $250 for every person on the planet. And the profit motive behind the global arms trade is absolutely crucial. This is a business that is about big, big money. The trade contributes around 40 percent of all corruption in all global trade' So its impact on countries, on governments, on ordinary individuals in terms of the economic opportunity costs are absolutely massive.
Britain kept an investigation about arms sales to Saudi Arabia secret for more than 10 years. Following allegations of corruption in massive arms deals between Saudi Arabia and Britain in the 1980s. The national audit office (NAO) launched an investigation in 1989. The resulting report remains the only NAO document never to have been published, despite promises to release it by New Labour while in opposition. It was in the early 2000's that David Spark 'A Guide to Techniques' wrote that uncovering the truth about alleged corruption and the Al Yamamah arms deal is the holy grail of investigative journalists. In 2003, a new investigation, this time into the NAO report and its secrecy, was launched after a complaint by the Guardian to the parliamentary ombudsman, Ann Abraham.
During this investigation, it was hoped that the truth would come out about the saga which involved one of the world's biggest arms companies at the time involving Margaret Thatcher and her son
.
Al Yamamah, which is Arabic for dove, was actually two separate deals over a decade. It has been described as "the biggest arms deal in history'
In October 2006, National Archives made a mistake by declassifying a document that revealed large-scale corruption under Margaret Thatcher. It was hastily withdrawn by officials who claimed the release had been "a mistake". Luckily, a researcher, Nicholas Gilby, had already realised its significance and photocopied the document before it was withdrawn.
Here are some extract from The Independent, and The Guardian.
Al Yamamah I

,
which was formally signed on February 17 1986, was worth an estimated
£5bn
at the time, and included the sale of Tornado and Hawk aircraft. British Aerospace, now BAE Systems, was the main contractor.
Newspapers called the arms deal
"MAGGIE'S BONANZA
" for the British jobs that would be saved, and because she personally lobbied the Saudi royals to seal the deal
Al Yamamah II
was signed on 5 July 1988. The shopping list included up to 50 more BAE Tornado's, up to 60 more Hawks, more than 80 military helicopters and air bases. It was valued at not less than £10bn.
But just weeks after the first deal was signed, allegations emerged of
sweetener payments totalling £600m to the Saudi royal family and to fixers.
That the Saudis had far too few military pilots to fly so many aircraft should itself have raised suspicion.
The NAO was asked to investigate the corruption claims in 1989, but three years later the parliamentary public accounts committee (PAC) said it would not publish the findings. The chairman, the Labour MP Robert Sheldon, even refused to show the final report, which looked only at whether British officials received, or in particular, gave payments to committee members.
"We found no evidence of fraud or wrongdoing in the MoD or government departments," Mr Sheldon said.
In 2006, the Serious Fraud Office started probing corruption allegations against BAE. Critics say that Britain should not be selling warplanes and military equipment to a regime which is barbaric and undemocratic. They say that the British government refrains from criticising the Saudis' appalling human rights abuses, in order not to upset the arms sales.
In October 1994, MP Tam Dalyell submitted documents to parliament that he claimed proved Mark Thatcher was involved.
The same month, the Financial Times revealed the PAC had decided not to investigate allegations that Thatcher Jr had received up to £12m from the deal.
Thatcher was closely involved in the talks that led to the al-Yamamah arms deal with Saudi Arabia
So what was the involvement with Margret Thatcher and her son in the Al-Yamamah arms deal?
This is an extract from
Margret Thatcher: From Grocer's Daughter to Iron Lady.
She met Prince Bannder, a nephew of king Fahd and son of the Saudi Defence Minster, at least twice in 1985, when she was supposed to be on holiday in the country. The first part of the deal included 48 Tornado Fighters, 24 Tornado air-defence Aircraft, 30 Hawk advanced training aircraft and 30 basic training aircraft. Heseltine told the press that Mrs Thatcher contribution 'cannot be overstated' She secured the second part at a stopover in Bermuda on her way to Australia in '88. Given her usual readiness to boast of her achievements, although personally I wouldn't call it an achievement, however, it is curious that this went unmentioned in her memoirs. The obvious reason for this, was embarrassment over reports of hugh commissions, running into millions, paid to middlemen. One of those middlemen was her own son Mark. His business interest had already started in 1984, when questioned were raised about a large contracts for the building of a university in Omen, which his mother had personally secured on her visit, with Mark in toe, in '81. With no relevant qualification or experience, he was then acting as a 'consultant' for Cementtation Ltd. His only possible value was his contacts and specifically his name. 'We did pay him and we used him because hes the Prime Minster son, the company admitted. Both in the commons and on TV, Mrs Thatcher denied any impropriety. In fact, since Cementtation were the only British company bidding for the university contract, this defence was disingenuous. Mrs Thatcher must of known that her son was to make a big profit if Cementtation won the contract.
Five years later, much bigger profits were made during the Al-yamamah arms deal and Mark was alleged to take 12-20 million from the deal for his role as a middleman. There is no doubt that at this time that he became a very inexplicably wealthy man
Sir Mark has always denied receiving this payment or exploiting his mother's connections in his business dealings.
If the Britain's relationship with the US is special, then our relationship with Saudi Arabia is staggering. The kingdom is a non-democratic state where "gross human rights violations continue", according to Amnesty International. Torture and ill-treatment remain rife, and executions are still meted out for "crimes" such as being gay, or for protesting against the closure of a mosque.
According to the Labour government's own figures in 2001, It was claimed that Britain authorised £20.5m worth of arms exports to Saudi Arabia. In 2002 the figure rose to £29m. It turned out to be the largest arms deal in history worth something like £83 million to BAE and other British Companies and partly paid for in oil. This arms sales was to the kingdom's strategic position in the Middle East clearly take precedence over our government's policies towards non-democratic, corrupt and human rights abusing states.
More criticism came to Mrs Thatcher's enthusiasm for arms sales is that it distorted the allocation of the aid budget. A charge that was highlighted in the Pergau Dam project in Malaysia. In '85, Thatcher made a visit to the country. She got on well with the Prime Minster, Dr Mahathir. Three years later she went back and negotiated without any reference with the Foreign Office. A deal was made where Britain financed the construction of an economically enviable and environmentally damaging hydro-electric power station in northern Malaysia in return for an agreement to buy British defence equipment worth £1.3 billion! Subsequently a pro-Third World pressure group took the Government to court. This was an improper diversion of 'aid for commerical purpose. In 1994 they won their case when the High Court ruled the deal illegal. Douglas Hurd, then Foreign Secretary in John Major's Government, was obliged to refund the aid budget £65 million from Treasury reserves.
The Pergau Dam project put a murky light on Mrs Thatcher's cavalier way with aid.
In December '94, Hurd was forced to reveal that three more aid projects involving Turkey, Indonesia and Botswana, had been found the breach the criteria of the 1980 Overseas Development and Co-operation Act. The money wasted on the Pergua project was more than Britain gave over the same period to Somalia, Ethiopia and Tanzania combined, while wealthy Omen alone received more British 'aid' than Ethiopia. Moreover, it emerged that nearly half the money expended under the Aid and Trade Provision (ATP) for projects in Third World countries went to finance contracts won by a handful of favoured companies all of which were major contributors to the Conservative party. In short, British aid was recycled to the Prime Minster's friends and supporters at home and abroad.
Another charge against Mrs Thatcher's pursuit of arms sales is that much of it was carried on secretly, in contravention of the Government's declared policy. The most glaring instance was the supply of military equipment to Saddam Hussein's Iraq throughout the eight years of the Iran - Irag war when Britain was supposed to be restricted the flow of arms to both sides. This turned into a major embarrassment in 1990 when Saddam invaded Kuwait and Britain and her allies found themselves at war with a country they had been busily arming just a few weeks earlier. The same had happened with Argentina in '82 during the Falklands War.
Officially, the West was neutral in the bloody war of attrition which began in 1980 when Iraq launched an attack on Iran. Up to 1985, Britain continued to train troops and supply low-level equipment impartially to both sides. In practise, however, both Britain and the USA covertly supported Iraq.
As Mrs Thatcher told Casper Weinberger in '84, the West did not need another success by Muslim fundamentalists. Moreover, the war provided a tempting opportunity. So long as the Shah was on the Peacock Throne, Britain had been a major supplier of arms to Iran. However, Khomeini's Islamic revolution had closed that market. British manufacturers were now keen to get into Iraq instead. Their American counterparts were hamstrung by Congress, which not only imposed an embargo on trade with both sides, but actually enforced it, so the Reagan administration was happy to see Britain secretly supply Baghdad. It was easier to deceive the House of Commons than it was to deceive Congress.
Britain followed the American lead by banning the export of 'lethal' equipment to either side. But a meeting of the Cabinet's Overseas and Defence Committee (OD) on 29th January '81, chaired by Mrs thatcher, agreed to define the critical word 'as flexibly as possible' Before the end of the year the MoD's arms trade subsidiary International Military Services (IMS) had won a contract to build an integrated weapons complex at Basra in southern Iraq than to Iran.
For a time in '83-4, when an Iranian victory seemed likely, however, the Foreign Office worried that this 'tilt' to Iraq might be imprudent and begun to hedge for a more balanced neutrality. In November '84, Richard Luce proposed more detailed 'guidelines' Mrs Thatcher knew that the guidelines had been worthless ever since '85. For one thing she received a quarterly report listing arms sales, country by country, all around the world, and she had given explicit approval to a substantial (and unannounced) level of exports to Iraq. Of course the undercover trade might have been omitted from this list. But she also received intelligence reports, and we know that she read them avidly. More specifically, Scott quotes an intelligence digest dated 29th March '88. Before the guidelines changed - summarising the British machine-tool industry's involvement in Iraqi weapons manufacture and singling out Matrix Churchill as 'heavily involved'. This was initialled by Mrs Thatcher.
This is just a taste of how Mrs Thatcher and her son made a fortune.
As far as I'm aware, the BCC is now just going to play 5 seconds of the song 'Ding Dong! The Witch Is Dead' on 'Radio 1 Sunday Chart Show' with an announcer explaining why?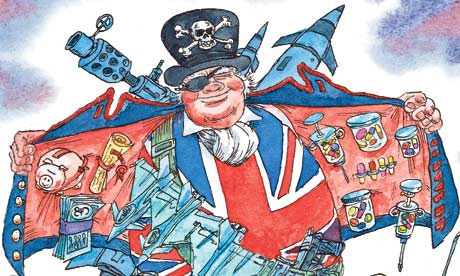 Today, arms manufacturers are among the UK's biggest employers. Greece, until recently the world's sixth-largest importer of arms, is a long-standing client; so are many other nations who cannot really afford to tool up for wars they may never fight.
The
arms trade
tops the list of corrupt sectors, according to Transparency International, the non-governmental organisation that monitors global bribery and corruption. Britain's arms sector is the second-largest in the world. Surely that means we are winning contracts because we grease more palms?
Why
are we seeing our own people killed by the arms that we have produced?

Should we be selling weapons to other Countries in this day and age when those very same arms may be used against us? Or should we simply produce our own weapons to defend ourselves and our own shores?
According to an Amnesty International report in 2011, the US, Russia and a number of European countries supplied large quantities of weapons to repressive governments in the Middle East and North Africa before this year's uprisings.
The report says that these arms deals were signed despite evidence of a substantial risk that they could be used to commit serious human rights violations.
The human rights group reports that in the five years preceding the Arab spring $2.4bn worth of small arms, tear gas, armoured vehicles and other security equipment was sold to five specified countries that have faced or are facing popular uprisings – Bahrain, Egypt, Libya, Syria and Yemen. And these sales were committed by at least 20 governments including Austria, Belgium, Bulgaria, the Czech Republic, France, Germany, Italy, Russia, the UK and the US.
The Amnesty International report also says that existing arms export controls have failed to prevent the transfer of arms. It finds that US is the biggest arms supplier to Egypt that provides the Egyptian government with both military and law enforcement equipment that is worth $1.3bn.
And it identifies the 10 states whose governments licensed the supply of weaponry, ammunition and related equipment to Libya since 2005 – these include Belgium, France, Germany, Italy, Russia, Spain and the UK. It says India authorised the supply of armoured vehicles to Syria while France sold ammunition's between 2005 and 2009 and Russia is also a main supplier to Syria
.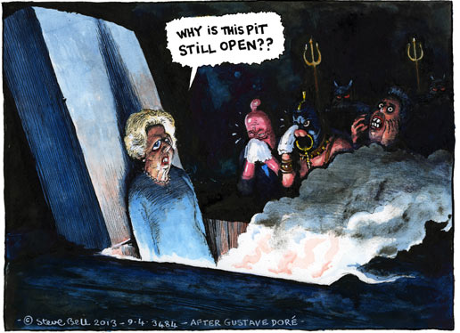 Steve Bell's (The Guardian, 9th April '13) cartoon shows Mrs Thatcher in a burning tomb, with a comment attributed to her that is intended as a reference to the collieries which closed while she was Prime Minster. Beside her weeping are, David Cameron with a condom over his head and George Osborne in bondage gear. The third wailing figure resembles Cabinet Minister Oliver Letwin. The Daily Mail called this 'tasteless'
Can you see the blood dripping from their hands as they both agree to make another arms deal with another country?
This is a documentary attached to the movie 'Lord of War'